Remarque! La version française suit un peu plus bas
Note! November is C3RF membership drive month, send this update to five of your friends with

the thought of joining C3RF here
Encana mulls the new Canada, and leaves
Well that didn't take long. One week after election 2019, and a Liberal win, Encana announced its departure from Canada.

It even added insult to injury by changing the company name to erase any affiliation with Canada. Given the fact that the company's history stretches back to the 1880's and has its genesis in the nation-building Canadian Transcontinental Railway, this hurt.

One might wonder if Encana took a look at the lay of the land in Canada and came to the conclusion that the Canada of old had faded ignominiously into the rear-view mirror. Indeed, the new emerging "post-nation" state that Canada is becoming might have been seen as a lousy fit for its ambitious oil and gas plays. One might also wonder if the Encana departure was symptomatic of something much larger, something along the lines of a cataclysmic clash between the rational thinking of the past and the "virtue-signalling" thinking of the future.
The ongoing battle of the rational versus the virtuous
Encana, as part of the Canadian juggernaut energy sector, had a rational understanding of the need to secure access for its products on a worldwide basis.

A world, by the way, that continues to exhibit a growing demand for these same products.

As a rational player in a rational world, it would understand the need to "wing walk" it's way through major change and employ the "precautionary principle" as it did so. "Wing walking" entails the maintenance of a firm grasp on one's current position with one hand while seeking to establish purchase on a new position with the other. This age-old, conservative strategy, in hand with a "precautionary principle" that seeks to commit no harm when in doubt, worked marvellously for Encana, and the country at large, in the cause-and-effect world that they both inhabited.
Virtuous thinking, however, is much less concerned with approaching change in a reasoned fashion. Rather than this, it calls for immediate, compassionate remedies even as it disparages critics of same as deniers, bigots, racists or whatever depending on the context. Accordingly, it refuses to take a back seat to cause-and-effect, rational thought that sees the world unfolding in accordance with the ministrations of individuals, their communities and their nations in service of their own self interests. Rather than this, it sees humanity on a long march towards perfection with changes on the way affected by the negation of the current reality to create a new one through chaos and pure will. This age-old ideology manifested itself as Marxism in the 19th century and used class warfare as a cudgel to create chaos and alter reality. This experiment crashed and burned in failure as the "worker" proved too fickle to sustain a continuing revolution. Enter the Frankfurt School in the early 20th century and its creation of a neo-Marxist "Critical Theory" that substituted social inequality for class warfare. For a deeper and greater understanding of the resulting neo-Marxism that is with us today, one would do well to read Stephen Coughlin and Richard Higgins' "

Remembering the Mis-remembered Left

".
No "wing walking" here!
The new Canada
It appears the old, rational Canada is being rapidly replaced by a new one dedicated to distancing itself from its common sense "wing walking" ways and precautionary principles. To hear Coughlin and Higgins on the how of the matter, this is being done by separating Canadians from the beliefs, values and culture handed down to them through a Judaeo-Christian ethic. This negation of tradition and history is being accomplished in true Frankfurt School form by ascribing social inequities to systemic cultural faults. By attacking and discrediting the host culture, all societal interactions downstream of it are tainted and brought into disrepute. The evidence of this is clear and demonstrated in the plethora of unfounded charges of racism, sexism, Islamophobia, transphobia and bigotry that are levelled upon the holders of the old culture. The phrase "diversity is strength" does not apply to these "deplorables".
The "deplorables" are seen to operate in opposition to the politically correct, social pieties of the new Canada and need to be discredited and destroyed. These would include those that operate out of Western Canada in the face of a concerted push to control climate through centralized, global efforts. As inferred above, it matters not that related climate models and data are failed or suspect or that previous known warm periods long in the past go unexplained. The "science is settled" so there is no need to discuss rational concerns further. Here we see the formation of an irreconcilable difference between reason and virtue that "free speech" is not allowed to resolve. We have here the makings of a national unity crisis the likes of which Canada has not seen since the conscription battle of the first World War. Perhaps this is what Encana was really trying to avoid.
The five "P's"
One can understand how "critical theory" and neo-Marxism intend to drive Canada into a paradise of forced and virtuous globalism but just who is doing the legwork? Coughlin and Higgins note that the related transition plan relies heavily on a "march through the institutions" to make it so. This devilish initiative calls for the infiltration of critical government agencies to influence and then control the nation's operational agenda. We see this happening at a quickening pace in Canada as the five "P's" become enamoured with an ever-increasing array of activist behaviours. For example:
All this to say, should Canadians be concerned? Should they act by employing their free speech rights before they are totally wiped away in a torrent of virtuous, politically correct thinking?
Thanks for your continued support
Your patronage makes a world of difference in the ability of C3RF to educate, advocate and act in service of preserving the individual and fundamental rights of all Canadians. It is truly unfortunate that such efforts are required but the fact remains, these rights and freedoms are coming under increasing attack from all quarters including our own legislative, judicial, media, academic and security authorities. Please know that the funds you so generously donate go directly into campaigning, events, bookkeeping, technology costs and legal advice. When these basic services are met, we use excess funding to assist other groups in advancing the cause of Canadian individual rights within a strong and free Canada. We also contribute to related legal proceedings and charitable activities when able. If you missed the call, click here to support C3RF today and remember, November is C3RF membership drive month. Talk to five friends about joining C3RF.
And while you're considering making a difference, please follow C3RF on Twitter, on Facebook and on our web site and share with friends our great content and a realistic outlook on the continuing battle for Charter Rights in Canada. You can also join our Twitter feed here.
Major Russ Cooper (Ret'd) Co-Chair C3RF
Version française
Encana songe au nouveau Canada et quitte le pays.
Ça n'a pas pris longtemps. Une semaine après les élections de 2019 et une victoire libérale, Encana a annoncé son départ du Canada. Il a même ajouté l'insulte à l'injure en changeant le nom de l'entreprise pour effacer toute affiliation avec le Canada. Étant donné que l'histoire de l'entreprise remonte aux années 1880 et qu'elle a son origine dans l'édification du Canada à travers le Chemin de fer Transcontinental, cela fait mal. On peut se demander si Encana a jeté un coup d'oeil à la situation au Canada et en est venu à la conclusion que le Canada d'autrefois n'était plus. En fait, le nouvel État "post-national" que le Canada est en train de devenir aurait pu être considéré comme un mauvais choix pour ses ambitieuses zones pétrolières et gazières. On peut aussi se demander si le départ d'Encana n'était pas symptomatique de quelque chose de beaucoup plus grand, d'un choc cataclysmique entre la pensée rationnelle du passé et la pensée soi-disant vertueuse de l'avenir.
La bataille permanente du rationnel contre le vertueux
Encana, qui fait partie du secteur canadien de l'énergie, avait une compréhension rationnelle de la nécessité d'assurer l'accès de ses produits à l'échelle mondiale. Un monde, soit dit en passant, qui continue d'afficher une demande croissante pour ces mêmes produits. En tant qu'acteur rationnel dans un monde rationnel, il comprendrait la nécessité de "marcher sur l'aile", c'est-à-dire de traverser des changements majeurs et d'appliquer le "principe de précaution" comme il le faisait. La "marche de l'aile" implique le maintien d'une prise ferme sur sa position actuelle d'une main tout en cherchant à établir un achat sur une nouvelle position de l'autre. Cette stratégie séculaire et conservatrice, assortie d'un "principe de précaution" qui ne cherche pas à faire de mal en cas de doute, a merveilleusement bien fonctionné pour Encana et le pays dans le monde de cause à effet qu'ils habitaient tous deux.
La pensée vertueuse, cependant, se préoccupe beaucoup moins d'aborder le changement d'une manière raisonnée. Plutôt que cela, il demande des remèdes immédiats et compatissants, même s'il dénigre les détracteurs de la même façon que les négationnistes, les fanatiques, les racistes ou d'autres personnes selon le contexte. Par conséquent, il refuse de passer à côté d'une pensée rationnelle, de cause à effet, qui voit le monde se dérouler conformément aux intérêts des individus, de leurs communautés et de leurs nations au service de leurs propres intérêts. Plutôt que cela, elle voit l'humanité en route dans longue marche vers la perfection à travers la négation de la réalité actuelle pour en créer une nouvelle à travers le chaos et la volonté pure. Cette idéologie séculaire s'est manifestée sous la forme du marxisme au XIXe siècle et a utilisé la lutte des classes comme un gourdin pour créer le chaos et modifier la réalité. Cette expérience s'est effondrée et a échoué car le "travailleur" s'est avéré trop capricieux pour soutenir une révolution continuelle. C'est ainsi qu'au début du XXe siècle, l'école de Francfort a créé une "théorie critique" néomarxiste qui a remplacé la lutte des classes par l'inégalité sociale. Pour mieux comprendre le néomarxisme qui en résulte aujourd'hui, il serait bon de lire "Remembering the Mis-remembered Left" de Stephen Coughlin et Richard Higgins.
Pas de "marche de l'aile" ici!
Il n'y a certainement pas de " marche de l'aile " dans le nouveau Canada! Alors que l'économie commence à s'effondrer en raison de la baisse des perspectives énergétiques de l'Ouest canadien, le pays est déterminé à faire la transition vers un "Green New Deal" sans plan en place. Oubliez le fait que la même expérience a déjà été tentée à l'échelle provinciale en Ontario avec des résultats désastreux. Les pauvres citoyens de cette ancienne grande province ont payé cher leur "Loi sur l'énergie verte" en dépensant plus de 37 milliards de dollars de plus pour leur électricité à la suite d'un programme éolien et solaire qui n'a pas marché. Même en gardant cela à l'esprit et compte tenu du fait que le Canada ne rejette que 1,6% des émissions mondiales de gaz à effet de serre, le gouvernement fédéral actuel est convaincu que le Canada peut faire une différence en abaissant la température mondiale de 1,5 degré Celsius en vertu de l'Accord de Paris. L'attaque digne de Don Quichotte du gouvernement canadien contre le "réchauffement climatique" doit se poursuivre sans relâche. Peu importe le désastre financier, l'aliénation de l'Ouest du pays, et sa possible séparation. On peut se demander comment un tel comportement imprudent au niveau fédéral pourrait être proposé et encore moins défendu. Qu'est-ce qui fait que le nouveau Canada fonce tête première vers sa propre disparition?
Le nouveau Canada
Il semble que l'ancien Canada rationnel soit rapidement remplacé par un nouveau Canada voué à prendre ses distances par rapport à ses principes de précaution et de "marche à l'aile" fondés sur le bon sens. Pour entendre Coughlin et Higgins sur la façon de procéder, on sépare les Canadiens des croyances, des valeurs et de la culture qui leur ont été transmises par une éthique Judéo-Chrétienne. Cette négation de la tradition et de l'histoire s'accomplit sous la forme d'une véritable école de Francfort en attribuant les inégalités sociales aux failles culturelles systémiques. En attaquant et en discréditant la culture d'accueil, toutes les interactions sociales en aval de celle-ci sont entachées et discréditées. La pléthore d'accusations non fondées de racisme, de sexisme, d'islamophobie, de transphobie et de sectarisme qui pèsent sur les détenteurs de l'ancienne culture en est la preuve évidente et en est la preuve. L'expression "la diversité fait la force" ne s'applique pas à ces "déplorables".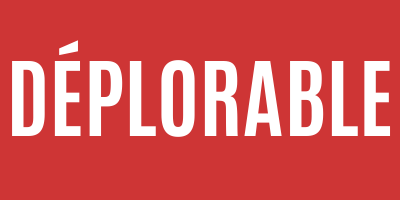 Les " déplorables " sont perçus comme étant en opposition avec les piétés sociales politiquement correctes du nouveau Canada et doivent être discrédités et détruits. Il s'agirait notamment de ceux qui exercent leurs activités dans l'Ouest canadien dans le cadre d'un effort concerté pour contrôler le climat par le biais d'efforts centralisés à l'échelle mondiale. Comme on il a été dit plus haut, il importe peu que les modèles et les données climatiques soient défaillants ou suspects, ou encore que les périodes chaudes antérieures connues depuis longtemps dans le passé restent inexpliquées. La "science est réglée", il n'est donc pas nécessaire de discuter plus avant des préoccupations rationnelles. Nous voyons ici la formation d'une différence inconciliable entre la raison et la vertu que la "liberté d'expression" n'est pas autorisée à résoudre. Nous avons ici les prémices d'une crise d'unité nationale comme le Canada n'en a pas vu depuis la bataille de la conscription de la Première Guerre mondiale. C'est peut-être ce qu'Encana essayait vraiment d'éviter.
Les cinq "P"
On peut comprendre comment la " théorie critique " et le néo-marxisme ont l'intention de pousser le Canada dans un paradis de mondialisme forcé et vertueux, mais qui fait le travail de fond? Coughlin et Higgins font remarquer que le plan de transition connexe repose en grande partie sur une "marche à travers les institutions" pour y parvenir. Cette initiative diabolique exige l'infiltration d'organismes gouvernementaux essentiels pour influencer et ensuite contrôler le programme opérationnel de la nation. Nous voyons cela se produire à un rythme de plus en plus rapide au Canada alors que les cinq "P's" amourachent d'un éventail de plus en plus grand de comportements militants. Par exemple:
Tout cela pour dire que les Canadiens doivent-ils s'inquiéter? Doivent-ils agir en usant de leur droit à la liberté d'expression avant d'être totalement anéantis dans un torrent de pensée vertueuse et politiquement correcte?
Merci pour votre soutien continu
Votre appui fait toute la différence dans la capacité de C3RF à informer, défendre et agir au service de la préservation des droits individuels et fondamentaux de tous les Canadiens. Il est vraiment regrettable que de tels efforts soient nécessaires, mais il n'en demeure pas moins que ces droits et libertés sont de plus en plus attaqués de toutes parts, y compris par nos propres autorités législatives, judiciaires, médiatiques, universitaires et de sécurité. Sachez que les fonds que vous donnez si généreusement vont directement aux campagnes, aux événements, à la tenue de livres, aux coûts de la technologie et aux conseils juridiques. Lorsque ces services de base sont assurés, nous utilisons les fonds excédentaires pour aider d'autres groupes à faire avancer la cause des droits individuels des Canadiens dans un Canada fort et libre. Nous contribuons également à des procédures judiciaires et à des activités de bienfaisance connexes lorsque cela est possible. Si vous avez manqué l'appel, cliquez ici pour soutenir C3RF aujourd'hui et rappelez-vous que Novembre est le mois de la campagne d'adhésion à C3RF. Parlez à cinq amis de votre adhésion au C3RF.
Et pendant que vous songez à faire une différence, suivez C3RF sur Twitter, sur Facebook et sur notre site Web et partagez avec vos amis notre excellent contenu et une perspective réaliste sur la lutte continue pour les droits garantis par la Charte au Canada. Vous pouvez également vous abonner à notre fil Twitter ici.
Major Russ Cooper (retraité) Coprésident C3RF