C3RF Update, 05 Nov 2021 – Court of the Sun King
Remarque! La version française suit un peu plus bas


Note! November is C3RF membership drive month
Time flies and its once again time to consider expanding on C3RF's considerable membership rolls (approaching some 40,000 now). Given that November is C3RF membership drive month, please consider talking to five friends about joining C3RF.
The new "Sun King"
One could be forgiven for thinking that the court of a new "Sun King" was being convened at last week's Liberal Party Cabinet installation ceremony. After all, the opulent Rideau Hall scene was reminiscent of a gathering at the "Hall of Mirrors" in King Louis XIV's Palace of Versailles – it was even accompanied by chamber music that could have come from 17th century France. More importantly and to the point, however, was the parallel between the formation of today's Cabinet and that of the court of the "Sun King" from days gone by.
Court of the "Sun King" installed at Rideau Hall, 26 October 2021
Born in 1683, Louis XIV would be king of France in its "greatest century" over the period 1643 to 1715. He was Europe's longest reigning sovereign and considered to be "God given". His Majesty ruled as an "absolute monarch" in a state that centralized all power within his person. Quite frankly, he ruled "free of all restraints" by creating an environment in which the nobility of the day was eager to serve the king either in his army or in his court. They could not plot against him if they were his courtiers and part of a royal tradition that obligated the king to be accessible to them. Likewise, we see the gathering of a new set of Canadian courtiers under an omnipresent royal in the form of Prime Minister Trudeau.
"Sun King", Louis XIV, with courtiers in the "Hall of Mirrors"
As noted in last week's update, the era of Louis XIV was characterized by the single-minded application of force and coercion in aid of the sovereign's desires. And so, we saw the banishment, and even attempted extermination, of France's Protestant population in the form of the Huguenots. It is here that we see parallels between the Versailles of yesteryear and the Ottawa of today, for now, as then, leaders are addressing issues with iron fists and in line with their mercurial personalities. Today's issues, such as climate change, pandemic response and economic resets, are seen as requiring centralized, unified approaches that cannot suffer second thoughts or opinions. And so, we see Canada with a new "Sun King" and a new, pliant court.
A new "Sun King" with a new court?
Court of the new "Sun King"
As our new "Sun King" draws his cabinet courtiers close to do his bidding, we see the selection of personalities fit for this purpose. It is quite obvious that this purpose does not include national unity as the bulk of cabinet selections come from the favoured, vote rich regions of Toronto and Quebec. Indeed, it is remarkable that the Maritime provinces have three-times as many positions in this new "Sun King" cabinet as all of the prairie provinces combined. Even more consequential for national unity than this, though, is an obvious pivot away from Canada's resource-based strengths towards a global preoccupation with climate warming and biodiversity.
Canada turns away from resource riches
The "Sun King's" intention to make Canada come into compliance with its declared climate change commitments is now being re-emphasized by even greater targets and new cabinet choices for the Environment and Natural Resource portfolios. The one-two punch of Guilbeault and Wilkinson respectively says this in spades as the former is a known true believer in the need to radically transform Canada's environmental policies while the latter is fully committed to "shutting down as much of the country's carbon-emitting natural resources as is possible". It would appear that the fossil fuel-rich provinces of Western Canada have much to fear when it comes to their future economic prospects under this "Sun King" and these courtiers.
Minister of the Environment - Steven Guilbeault (Left) | Minister of Natural Resources - Jonathan Wilkinson (Right)
Any court worth its snuff is not complete without a bevy of camp followers including troubadours and jesters. These poets and entertainers enjoy a special place in Canada's "Sun King" court in the form of journalists and talking heads. These former "watchdogs of democracy" have left related duties behind as they are now fully seized with the need to both echo and amplify the preferred narratives of the "Sun King" and his ministerial courtiers. Included within the ranks of these "clapping seals" are the members of the controlled opposition that were, in former times, responsible for poking holes in government narratives and developing rational alternatives. Those responsibilities are now six years behind us in the rear view mirror as the related political parties vie for favourable treatment from the "Sun King" or his happy band of troubadours and jesters.
Clapping seals - journalists, talking heads and the "controlled opposition"
The "Crown Prerogative"
The court of our new "Sun King" has another ace up its sleeve in the form of a system of jurisprudence that seems amenable to expanding his power through judicial activism. In doing so, the formal "Crown Prerogative" to rule over matters that are not legislated to be outside of its authority is allowed to expand into areas that were formally excluded from the Crown's jurisdiction. Cases in point are recent judicial rulings that provide the Government relief from having to present evidence that would justify the scope, if not the implementation, of Wuhan virus emergency measures that circumvent our Charter of Rights and Freedoms. This can be seen at the 5:30 minute mark of this Justice Centre for Constitutional Freedom (JCCF) video where we see the Charter's ability to "bind the Crown" trashed by a "Sun King"-friendly court.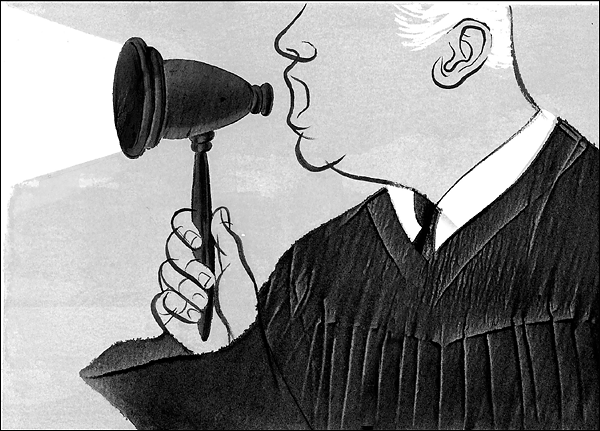 Is judicial activism being used to expand "Crown Prerogative"?
And so, we see the "Sun King", his courtiers, his troubadours and jesters and the courts all working together to constrain civil liberties while supporting narratives that operate against these same rights and freedoms. As if this wasn't bad enough, we also see the legislative process being used to promulgate broadcast and "hate speech" laws capable of crushing any opposition. This has been promised by the new "Sun King" government as it moves to reinstate and enhance Bills C-10 and 36 from the last session of Parliament. These Bills promise to patrol your online "user content" and place you under house arrest for thinking about ruffling the feathers of sensitive souls prone to clutching at pearls. It would seem as though the "Sun King" and his courtiers are hell bent on controlling the narrative and outlawing any attempt to debate or even question it.
Pearl clutchers must never be offended by your speech?
With reinstated Bills C-10 and 36 in place, the way should be clear to criminalize any attempt to oppose the "Sun King's" preferred narratives. No longer will the climate change-perplexed be allowed to wonder how the "hockey stick" model failed with its rampaging temperature predictions or why global warming reports from 2000 got it so wrong. No longer will the Wuhan virus-flummoxed be able to wonder why "natural immunity" is no longer part of the epidemiological landscape or why early-use ivermectin can work in Indonesia but not in Canada. Indeed, the path is clear for the new "Sun King" to herald in a new "greatest century" as we take on our new roles as subsistence farmers – a prospect that enjoys "mile wide, inch deep" support by a majority of Canadians.
Subsistence farming in Canada's near future?
Thanks for your continued support
Your patronage makes a world of difference in the ability of C3RF to educate, advocate and act in service of preserving the individual and fundamental rights of all Canadians. It is truly unfortunate that such efforts are required but the fact remains, these rights and freedoms are coming under increasing attack from all quarters including our own legislative, judicial, media, academic and security authorities. Please know that the funds you so generously donate go directly into campaigning, events, bookkeeping, technology costs and legal advice. When these basic services are met, we use excess funding to assist other groups in advancing the cause of Canadian individual rights within a strong and free Canada. We also contribute to related legal proceedings and charitable activities when able. If you missed the call, Click here to support C3RF today!
And while you're considering making a difference, please follow C3RF on Twitter, on Facebook, on Gab, on Parler and on our web site and share with friends our great content and a realistic outlook on the continuing battle for Charter Rights in Canada. You can also join our Twitter feed here and view our videos on YouTube, on Rumble and on Odysee.
Major Russ Cooper (Ret'd)
President and CEO, C3RF
Version française
Note! Novembre est le mois de la campagne d'adhésion à C3RF
Le temps passe vite et il est à nouveau temps d'envisager d'augmenter le nombre considérable de membres de C3RF (qui avoisine maintenant les 40 000). Étant donné que novembre est le mois de la campagne d'adhésion à C3RF, veuillez envisager de parler à cinq amis de l'adhésion à C3RF.
Le nouveau « Roi Soleil » Justin Le Grand
On aurait pu croire que la cérémonie d'installation du Cabinet du Parti libéral de la semaine dernière réunissait la cour d'un nouveau « Roi Soleil ». Après tout, l'opulente scène de Rideau Hall rappelait une réunion dans la « galerie des glaces » du château de Versailles du roi Louis XIV - elle était même accompagnée d'une musique de chambre qui aurait pu provenir de la France du XVIIe siècle. Mais le plus important et le plus pertinent était le parallèle entre la formation du Cabinet et celle de la cour du « Roi Soleil » d'autrefois.
Cour du « Roi Soleil » installée à Rideau Hall, 26 octobre 2021
Né en 1683, Louis XIV sera le roi de France au cours de son « apogée », de 1643 à 1715. Il est le souverain qui a régné le plus longtemps en Europe et est considéré comme un « don de Dieu ». Sa Majesté régnait en tant que « monarque absolu » dans un État qui centralisait tous les pouvoirs en sa personne. En toute franchise, il a régné « sans aucune contrainte » en créant un environnement dans lequel la noblesse de l'époque était désireuse de servir le roi, que ce soit dans son armée ou à sa cour. Ils ne pouvaient pas comploter contre lui s'ils étaient ses courtisans et s'ils faisaient partie d'une tradition royale qui obligeait le roi à leur être accessible. De même, nous assistons au rassemblement d'un nouvel ensemble de courtisans canadiens sous l'égide d'un roi omniprésent sous la forme du premier ministre Trudeau.
Le « Roi Soleil », Louis XIV, avec des courtisans dans la « Galerie des Glaces »
Comme nous l'avons indiqué dans le bulletin de la semaine dernière, l'ère de Louis XIV se caractérise par l'application résolue de la force et de la coercition au service des désirs du souverain. Ainsi, nous avons assisté au bannissement, et même à la tentative d'extermination, de la population protestante de France - les Huguenots. C'est ici que nous voyons des parallèles entre le Versailles d'antan et l'Ottawa d'aujourd'hui, car aujourd'hui, comme à l'époque, les dirigeants abordent les problèmes avec une main de fer et en fonction de leur personnalité imprévisible. Les enjeux d'aujourd'hui, tels que le changement climatique, la réponse aux pandémies et les réinitialisations économiques, sont perçus comme nécessitant des approches centralisées et unifiées qui ne peuvent souffrir de second examen. Ainsi, nous voyons le Canada avec un nouveau « Roi-Soleil » et une nouvelle cour souple.
Un nouveau « Roi Soleil » avec une nouvelle cour?
La cour du nouveau « Roi-Soleil »
Alors que notre nouveau « Roi Soleil » rapproche les courtisans de son cabinet pour qu'ils se plient à ses ordres, nous assistons à la sélection de personnalités adaptées à cet objectif. Il est tout à fait évident que l'unité nationale ne fait pas partie de cet objectif, car la plupart des membres du cabinet proviennent des régions favorisées et riches en votes de Toronto et du Québec. En effet, il est remarquable que les provinces maritimes aient trois fois plus de postes dans ce nouveau cabinet « Roi Soleil » que toutes les provinces des Prairies réunies. Mais ce qui a encore plus de conséquences pour l'unité nationale, c'est l'abandon évident des atouts du Canada en matière de ressources naturelles au profit d'une préoccupation mondiale pour le réchauffement climatique et la biodiversité.
Le Canada se détourne de ses richesses en ressources
L'intention du « Roi Soleil » de faire en sorte que le Canada se conforme à ses engagements déclarés en matière de changement climatique. Ceci est maintenant réaffirmée par des objectifs encore plus importants et de nouveaux choix ministériels pour les portefeuilles de l'environnement et des ressources naturelles. Le duo Guilbeault et Wilkinson, respectivement, en dit long à ce sujet, puisque le premier est connu pour croire en la nécessité de transformer radicalement les politiques environnementales du Canada, tandis que le second s'est engagé à « fermer autant que possible nos ressources naturelles émettrices de carbone ». Il semblerait que les provinces de l'Ouest canadien, riches en combustibles fossiles, aient beaucoup à craindre quant à leurs perspectives économiques futures sous ce « Roi Soleil » et ses courtisans.
Le Ministre de l'Environnement - Steven Guilbeault (la gauche) | Le Ministre des Ressources naturelles - Jonathan Wilkinson (droit)
Toute cour digne de ce nom n'est pas complet sans une ribambelle de partisans, dont des troubadours et des bouffons. Ces poètes et ces amuseurs occupent une place spéciale à la cour du « Roi Soleil » du Canada sous la forme de journalistes et de grandes gueules. Ces anciens « cerbères de la démocratie » ont laissé derrière eux leurs fonctions antérieures, car ils sont maintenant pleinement conscients de la nécessité de faire écho et d'amplifier les récits préférés du « Roi Soleil » et de ses courtisans ministériels. Parmi les rangs de ces "phoques qui applaudissent", on trouve les membres de l'opposition qui, autrefois, étaient chargés de faire des trous dans les récits du gouvernement et de développer des alternatives rationnelles. Ces responsabilités sont maintenant derrière nous depuis six ans, dans le rétroviseur, alors que les partis politiques se disputent le traitement favorable du « Roi Soleil » ou de sa joyeuse bande de troubadours et de bouffons.
Les phoques qui applaudissent; les journalistes, les têtes parlantes et l' « opposition contrôlée ».
La « prérogative de la Couronne »
La cour de notre nouveau « Roi Soleil » a un autre atout dans sa manche sous la forme d'un système de jurisprudence qui semble propice à l'extension de son pouvoir par l'activisme judiciaire. Ce faisant, la « prérogative de la Couronne », qui lui permet de statuer sur des questions qui ne sont pas légalement en dehors de son autorité, peut s'étendre à des domaines qui étaient formellement exclus de la juridiction de la Couronne. Les récentes décisions judiciaires qui dispensent le gouvernement d'avoir à présenter des preuves justifiant la portée, voire la mise en œuvre, des mesures d'urgence du virus de Wuhan, qui contournent notre Charte des droits et libertés, en sont un bon exemple. On peut le voir à 5:30 minutes de cette vidéo du Justice Centre for Constitutional Freedom (JCCF), où l'on voit la capacité de la Charte à « lier la Couronne » annulée par un tribunal favorable au « Roi Soleil ».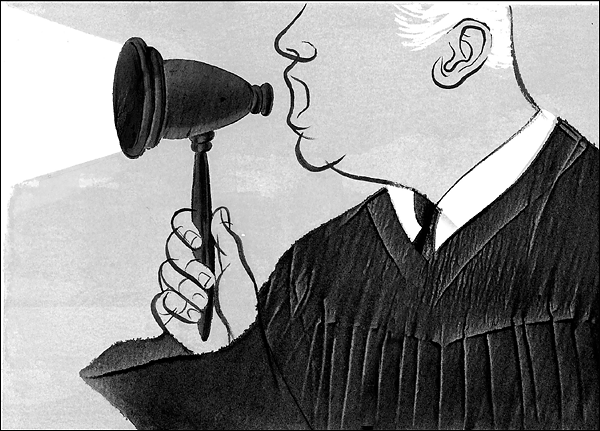 L'activisme judiciaire est-il utilisé pour étendre la « prérogative de la Couronne »?
Ainsi, nous voyons le « Roi Soleil », ses courtisans, ses troubadours, ses bouffons et les tribunaux travailler ensemble pour limiter les libertés civiles tout en soutenant des récits qui vont à l'encontre de ces mêmes droits et libertés. Comme si cela ne suffisait pas, nous voyons également le processus législatif utilisé pour promulguer des lois sur la diffusion et les « discours haineux » capables d'écraser toute opposition. C'est ce qu'a promis le nouveau gouvernement du « Roi Soleil » en rétablissant et en « améliorant » les projets de loi C-10 et 36 de la dernière session du Parlement. Ces projets de loi promettent de patrouiller votre « contenu d'utilisateur » en ligne et de vous assigner à résidence si vous pensez à froisser les âmes sensibles enclines à s'accrocher aux « faux » `récits. Il semblerait que le « Roi Soleil » et ses courtisans soient déterminés à contrôler le récit et à interdire toute tentative de débat ou de remise en question.
Les madames trop sensibles ne doivent jamais être offensés par votre discours?
Avec le rétablissement des projets de loi C-10 et 36, la voie devrait être libre pour criminaliser toute tentative de s'opposer aux récits préférés du « Roi Soleil ». Les personnes perplexes face au changement climatique n'auront plus le droit de se demander comment le modèle du « bâton de hockey » a échoué dans ses prévisions de température ou pourquoi les rapports sur le réchauffement climatique de 2000 étaient si erronés. Les personnes déroutées par le virus de Wuhan ne pourront plus se demander pourquoi l' « immunité naturelle » ne fait plus partie du paysage épidémiologique ou pourquoi l'utilisation précoce de l'ivermectine peut fonctionner en Indonésie mais pas au Canada. En effet, la voie est libre pour que le nouveau « Roi Soleil » annonce un nouveau « grand siècle » alors que nous assumons nos nouveaux rôles d'agriculteurs de subsistance - une perspective qui bénéficie du faible soutien d'une majorité de Canadiens.
L'agriculture de subsistance dans l'avenir proche du Canada?
Merci pour votre soutien continu
Votre soutien fait toute la différence dans la capacité du C3RF à éduquer, à défendre et à agir au service de la préservation des droits individuels et fondamentaux de tous les Canadiens. Il est vraiment regrettable que de tels efforts soient nécessaires, mais le fait est que ces droits et libertés sont de plus en plus attaqués de toutes parts, y compris par nos propres autorités législatives, judiciaires, médiatiques, universitaires et de sécurité. Sachez que les fonds que vous donnez si généreusement vont directement aux campagnes, aux événements, à la comptabilité, aux coûts technologiques et aux conseils juridiques. Lorsque ces services de base sont assurés, nous utilisons les fonds excédentaires pour aider d'autres roupes à faire avancer la cause des droits individuels des Canadiens au sein d'un Canada fort et libre. Nous contribuons également aux procédures judiciaires connexes et aux activités de charité lorsque cela est possible. Si vous avez manqué l'appel, Cliquez ici pour soutenir C3RF aujourd'hui!
Et pendant que vous envisagez de faire une différence, veuillez suivre C3RF sur Twitter, sur Facebook , sur Gab, sur Parler et sur notre site web et partager avec vos amis notre excellent contenu et une perspective réaliste de la lutte continue pour les droits de la Charte au Canada. Vous pouvez également vous joindre à notre fil Twitter ici et consultez nos vidéos sur YouTube, sur Rumble et sur Odysee.
Major Russ Cooper (retraité)
Président et CEO, C3RF​